Katy Perry has taken to the Twitter airwaves to defend herself and other artists against recent reports on the use of product placement in music videos
After news broke that Britney Spears earned a reported half a million dollars for the various product placements in her music video for 'Hold It Against Me', music stars have been weighing in on the debate. One of those people is Katy Perry, who responded to a tweet by Marina and the Diamonds asking people their thoughts on it.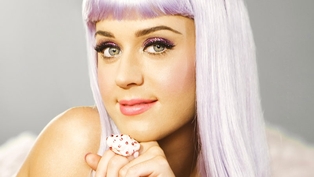 Marina tweeted:
"What is consensus on product placement in videos? As a fan, do you prefer product placement if it means bigger budget vid?"
To which Katy Perry replied:
"do it w/style & grace.Not so in ur face like some. U hv to get creative w/it. Some artists don't care tho, & u can tell."
However, as headlines emerged that Perry had 'slammed other artists' for the use of products placement, the singer took to her Twitter page to unleash an attack on the tabloid media after feeling her earlier remark had been completely twisted.
She added,
"Dear tabloid media aka FILTH@: pls note I expressed and overall feeling about product placement, their roles in vids and the art of using them being complimentary or sticking out. Most, if not ALL popsters welcome deals w/products to offset costs of big budget vids in these recessionary music industry times. I've used them in MY vids before and am happy to be able to make a better video because of it. Once AGAIN stop pitting artists against artists for your sensational satisfaction and stick to what you're best at - lying, gossiping, exaggerating and overall lending a hand to the deterioration of a generation.
p/s : now she's in a hot soup for calling the media FILTHY. She's better to watch out her next words though

♥