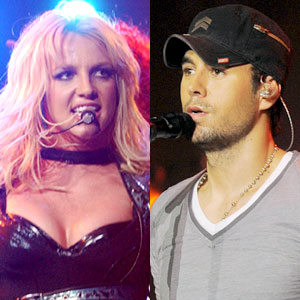 He held something against her, all right. Careful what you
wish for
sing about, kids!
In any case, the tour certainly seemed locked down, with the full itinerary and list of tour dates released just this morning. Which begs the question, que pasó Enrique?
For the time being, Iglesias—currently and inconveniently on tour in Europe—has yet to comment on the bail-out or offer up an explanation as to why he's so abruptly jumped ship.
The tour's promoter, Live Nation, has also so far declined to comment. Team Britney has promised to issue a statement soon. Curiously, the wording of
her online announcement
omits any mention of another artist.
However, sources close to the tour say that Iglesias had been trying to iron out some scheduling conflicts with a couple of dates and, before he could figure it out, someone premature sent the press release. The various parties are said to be huddling now in hopes of getting the tour back on track.
While this morning's announcement didn't specify if the duo would be coheadliners on the tour or whether Enrique would be serve as the opening act. According to
Billboard
, Iglesias was due to perform as the latter, but would carry his full production while on the road.
The tour was ostensibly scheduled to kick off June 17 in Sacramento and play in 26 arenas across North America. More dates are expected to be added later on, though whoever takes Iglesias' place will no doubt be glad that they did.
The Femme Fatale artist's last tour, 2009's Circus, grossed $120 million.