Britney Spears
has inspired a plethora of art, including one really disturbing statue of the pop star in the throes of giving birth, but her latest role as muse comes from a surprising source: Barry Manilow.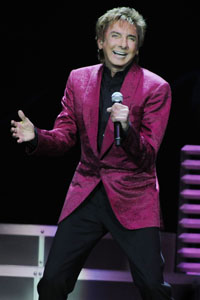 On his new CD
15 Minutes
, Barry Manilow ruminates on the highs and lows of fame -- and the
Copacabana
singer says he was inspired by none other than Britney Spears.
"The thing we started to think about was when Britney Spears was being hounded by the paparazzi," Manilow told the L.A. Times. "They were driving her crazy. She couldn't have a life without them pulling up next to her car and following her and driving her crazy to the point where, that was around the time she shaved off her hair. I think they actually helped to drive her crazy. We all looked at it in horror... and I said, 'Is this what happens these days?' So it seemed like a thing to be writing an album about."